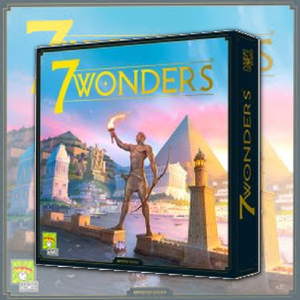 7 Wonders has long been held as a game that people go to again and again, I mean whats not to love its all about the Wonder's of the world!
This second edition has got a reworked rule book, cards that are easier to read, Wonder's that have Night and Day rather than A and B. It is also colourblind friendly.
Please note none of the 1st edition expansions will work with this version
Description from the publisher
Make the right decisions to lead your civilization to prosperity!
Lead one of the seven greatest cities of Antiquity. Develop your civilization on a military, scientific, cultural, and economic level. Once built, will your Wonder bring you glory for millennia to come? No downtime, renewed fun in each game and perfect balance regardless of the number of players.