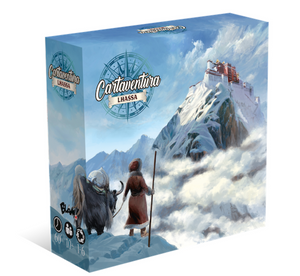 Author: Thomas Dupont - Arnaud Ladagnous
Author: Thomas Dupont - Arnaud Ladagnous
Artist: Jeanne Landart & Guillaume Bernon
A new collection of narrative games where you are the hero.
• Multiple endings -> you need to play the game multiple times to discover them all. • Create and discover your map depending on your choices. • Learn the rules as you play – no need to read a rulebook!

Each scenario transports you into different eras, to discover famous personalities. Experience a new kind of adventure, according to your own choices, your own desires, your own instincts. Cartaventura presents you with simple but original gameplay, allowing you to make a unique experience out of each and every scenario In the first volume we play a journalist following Alexandra David-Neel on her way to Tibet. In the second we play the son of Eric the Red. The 3rd one will follow the first black sheriff in the US. Developed in partnership with historians/specialist for each adventure. Includes a 6 pages historic minibooklet.
LHASSA Spring 1916. You are a war journalist, and you have just fled the hell of the trenches. Traumatised by your experiences you travel to gentler climes as a reporter. Captivated by a book of Alexandra David-Neel's about the Buddhism they practise in the East, you decide that your journey will follow hers. Sri Lanka, India, Tibet... who knows, maybe you will even be able to enlighten your readers about the mysterious city of Lhasa. Discover a region of the world which flickers between colonial realities and eastern wisdom...
https://boardgamegeek.com/boardgame/327076/cartaventura-lhassa
Age - 10+

Number of players - 1-6
Duration - 60 Mins