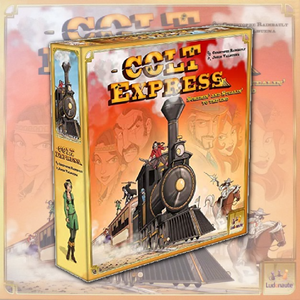 The union Pacific left its platform from New Mexico, but little did the passengers know bandits where sneaking around about the rob the train!!!
In Colt Express you are bandits with the aim of collecting the most treasure. Using cards you moving up and down the train to grab the treasure, when going through tunnels cards are played in secret giving you the upper hand. 
But be careful other bandits on the train may get jealous of your treasures and attack!! Not to mention the Marshal is running around the train trying to catch you also. 
Will you be become the richest outlaw in town?
Includes a 3D train!