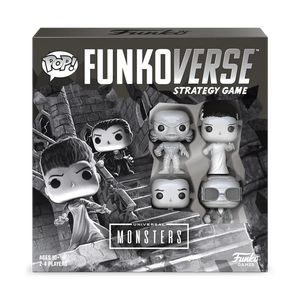 Face off in the ultimate Pop! battle

Combine your favorite characters and go head-to-head in four exciting
game scenarios. Move through memorable locations — Dracula's
Castle or Frankenstein's Laboratory — and use your characters' unique
abilities to capture points and achieve victory!
Interesting Gameplay Features
• Includes four exclusive Universal Monsters Funko Pop! figures found
only in this game! Each figure is a unique, playable character with
their own abilities!
• Assemble the Bride of Frankenstein from robbed graves to unleash
her undead prowess!
• Use Dracula's blood-draining abilities to power up your attacks
and terrorize your foes!
• Ambush and abduct your rivals with the Creature From the
Black Lagoon!
• Four different gameplay scenarios give four different ways to play
the game!
• Combine this game with any other Funkoverse Strategy Games
to maximize your fun!
Chance of chase is random