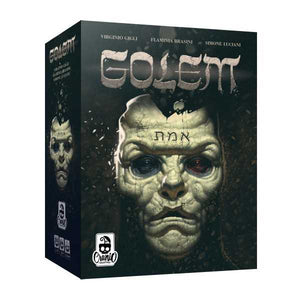 The legend of the Golem is one of the most fascinating stories in the world and has its roots in the Jewish tradition. In Golem, this story inspires a strategic and complex game in which players take on the role of scholars focused on recreating the famous clay automas.
Use your knowledge (represented by the first letter of the Hebrew alphabet "Aleph") to study traditional books, collect
gold and melt it down to create powerful artefacts, bring tireless Golems to life and send them to the city to do important
jobs. You will need to maintain control of your Golems by using your students and spending the knowledge you have
gained. You can also choose to kill your Golems to avoid paying for their maintenance.
- description from the publisher
for 1-4 players.