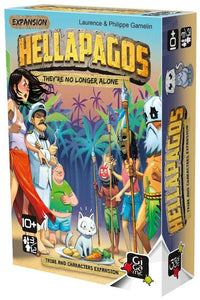 Expansion for Hellapagos!
Fantastic, semi-cooperative party game
Tense, treacherous fun for up to 12 players
Incredible immersion
Co-operative play with a backstabbing twist, Hellapagos is survival of the sneakiest!  Deserted on an island where resources are scarce, you must work together to build a raft. Only question is, do you have what it takes to secure your seat?
Age - 10+

Number of players - 3-12

Duration - 20 Mins