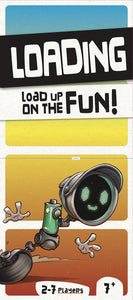 Simultaneous play with no turns
Anybody can STOP the game at any time!
Expert and 2 player modes for even more thrillingly tactical, addictive card play
3-2-1….LOAD! Who can collect the most energy points before someone calls "STOP"? If you want to win, you'll either need to be the fastest or the smartest player! A fun, frantic deck-switching and discarding card game, Loading is truly electrifying!
Age - 7+

Number of players - 2-7

Duration - 5 Mins