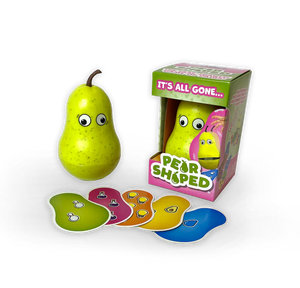 READY, STEADY, WOBBLE
In this simple family board game for kids and adults, you want to get rid of all your cards before the wobbly pear timer stops.  

BLUE, LIGHTBULB, ONE
Call out the symbol, number, or colour your card matches. Don't worry about waiting for your turn. Put down a card as soon as you see a match.  

THE PERFECT PEAR
Got an exact match? Shout, "Pear shaped!" and grab the pear. Everyone else gets the cards in the discarded deck. Be quick though, someone could grab the pear before you.