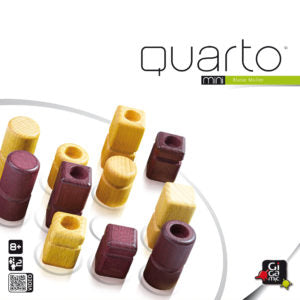 Original gameplay based on deductive reasoning
Three simple rules but infinitely replayable
Previous Spiel des Jahres winner
In Quarto Classic, simply place four pieces in a row to win. In a tactical twist, however, each one must share something in common, and your challenger selects which pieces you play. Victory lies in the hands of your opponent!
This Is A Mini Verson Of The Main Game

Age - 8+

Number of players - 2 players

Duration - 15 Mins