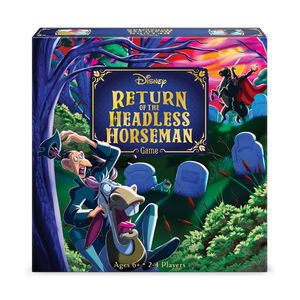 Work together to get him to the covered bridge before the Headless Horseman heads him off! It's a family game of frightful fun!
Brings to life the ghost story from Disney's animated classic
The Legend of Sleepy Hollow!

Includes Ichabod and the Headless Horseman figures with dynamic poses.

Cooperative play gets the family working together to help Ichabod reach the covered bridge!

Spin the tree to draw more cards! Then put Ichabod on the tree for a frightful ride!

Adjustable gameplay to fit your family—you can reduce the strategy or make the game more challenging!