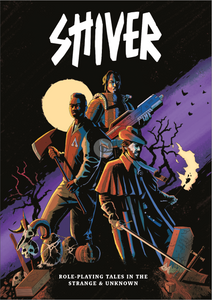 A table top RPG bringing your favourite Scary Movies, Pulp TV Shows & Stories to life.
SHIVER is a roleplaying game that brings tales of the mysterious, the peculiar and the strange to life. Inspired by a love of horror films, cult classic movies and pulp TV shows SHIVER is an easy to learn and innovative game system that brings story telling to the fore. SHIVER makes it simple for you to tell the stories you want to tell, however weird, wonderful or terrifying they may be.
Take on the role of archetypal characters from any story, time, and place to uncover the dark truths that lurk in the shadows of the world. Unmask the villains, go boldly into the unknown… and while you're at it, try not to die.

SHIVER immerses you in the telling of your tale, seamlessly merging gameplay mechanics with the storytelling itself. Symbolic dice bring the story to life with each roll of the dice a potential twist in the story. Succeed and continue onwards, fail and doom may follow you, and sometimes, the outcome is not always what you bargained for. You may be telling the story but the dice also have a speaking role.

Drawing influence from stories all over pop culture, if the plot is strange then you can play it with SHIVER. Explore tales akin to those you would find in: Stranger Things, Jurassic Park, Friday the 13th, The Thing, Aliens, Dracula, The X-Files and many other peculiar tales.

Ready to make your own Cult Classic? 

-description from the makers.
This is the core rulebook, with everything you need in one book to both play and host a game.