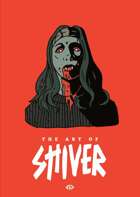 SHIVER is a roleplaying game that brings tales of the mysterious, the peculiar and the strange to life, inspired by a love of horror films, cult classic movies and pulp TV shows.
This art book explores the journey of visual development for the strange and sinister worlds of SHIVER through illustrations by Ben Alexander. 
Featuring concept art, character designs, monsters and curious items.