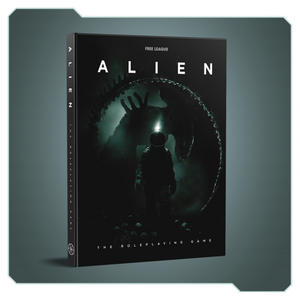 On May 25, 1979, Alien first graced the silver screen. Forty years after the Alien franchise first inspired and shocked the world, Free League Publishing has a xenomorphic surprise of their own in store. Quite literally.
Based upon Free League's award-winning Year Zero game engine, the full Alien RPG Core Rulebook contains 300+ pages of mythology, artwork, and custom mechanics for open-world campaigns and deep, diverse space explorations on the Frontier. While Campaign Mode provides the tools for long-term gameplay, Cinematic Mode challenges players to start and complete an accessible, authentic tabletop RPG experience in one game session with no prior preparation necessary. A streamlined version of the Year Zero engine, Cinematics deliver only the most crucial game rules for each scenario with pre-generated characters, stories, and challenges – capturing the intense drama of an Alien film. In space, no-one can hear you scream…
... but in Fan Boy Three, literally everyone can hear you scream. So please don't. Not even when the GM pretends their hand is a face hugger when you are least expecting it. 
(True story)
This book comes with a complimentary Pdf thanks to Bits and Mortar. But I didn't put the banner. in. Just look at that beautifully constructed product shot. The mood lighting. The soft glow. I just couldn't mess with it. Fria Ligan - you have excelled your already high standard of graphic design. 10/10