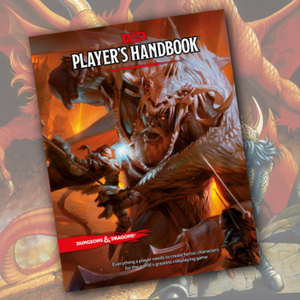 Now this? This is where the fun really begins! Think of the Starter Box and the Essentials Box as your starter courses - enough to get you interested and hungry for more! And at the all you can eat Dungeons and Dragons buffet, the Players Handbook is the main course. You can add some sides to it - like Xanathar's Guide to Everything or variant races from Mordenkainen's Tome of Foes, but the main rules for playing are right here. 
A lifetime of adventure and camaraderie awaits!  
BUILD YOUR CHARACTER: This rule book gives you all you need to build your D&D characters, outlines the rules for roleplaying and combat as well as giving a directory of over 350 spells with descriptions and illustrations.
CREATE INFINITE CHARACTERS: Whether you're creating an elvish cleric, driven from society for trespassing on tradition, a dwarven paladin, atoning for an dubious past, the Player's Handbook provides the skeleton for your characters.
ESSENTIAL TOOLS: The Player's Handbook is one of the three main Dungeons & Dragons books, along with the Monster Manual and the Dungeon Master's Guide. The Player's Handbook is the cornerstone. It's the foundational text of D&D's Fifth edition—for beginners and for veterans alike.
UNLEASH YOUR IMAGINATION: Dungeons & Dragons is a cooperative storytelling game that harnesses your imagination and invites you to explore a fantastic world of adventure, where heroes battle monsters, find treasures, and overcome quests.