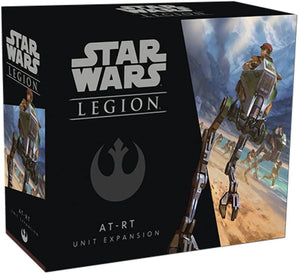 Star Wars unit expansion
The AT-RT Unit Expansion includes a single new AT-RT miniature for you to add to your Rebel army, complete with three different gun attachments that can be attached to your miniature. Along with the AT-RT, you'll find the associated unit card and an assortment of upgrade cards for you to enhance your AT-RT and other units.
A bipedal AT-RT miniature lends extra firepower to the Rebellion with three options for customization, allowing you to equip your AT-RT with a rotary blaster, a laser cannon, or a flamethrower. This version of the AT-RT is distinct from the AT-RT found in the Core Set.