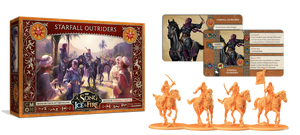 House Dayne's Cavalry Head to Battle

House Dayne is House Martell's strongest vassal house. They hail from Starfall, an ancient castle in the desert. Their well known for their mastery of the equestrian arts, sending several different units to House Martell to aid in their military exercises. The Outriders are the light cavalry unit in their arsenal.
The Starfall Outriders unit box for the A Song of Ice and Fire: Tabletop Miniatures Game gives House Martell a quick, light cavalry unit for their forces. They are adept at hit-and-run tactics with their scimitars while aiding friendly units nearby, rallying them to fight on ever stronger.